Located in south central Texas and surrounded by gently rolling plains, San Antonio is the third largest city in the state, and the eight largest city in the U.S. It is also the largest U.S. city with a Hispanic majority and is heavily influenced by Mexico. Five missions built along the San Antonio River serve as the points of origin from which the modern city developed.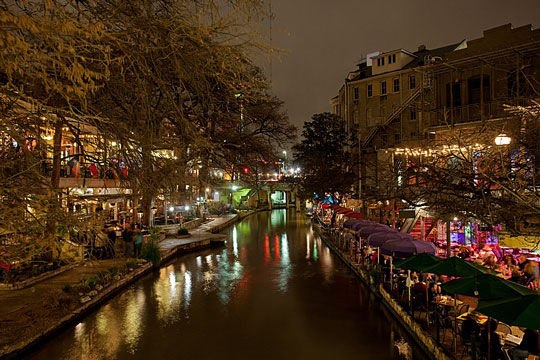 San Antonio Riverwalk at Night
San Antonio was given its name by the governor of the Spanish Colonial territory on St. Anthony's Day in 1681. A mission was later established on the San Antonio River and a presidio was founded by Spanish soldiers in 1781. Several more missions were built throughout the region and San Antonio became a part of Mexico after the Mexican Revolution of 1821. The Alamo mission, where 198 volunteers held off Mexican leader Antonio Lopez de Santa Anna and his forces for thirteen days in 1836 is one of the city's sources of historical pride. Even though they eventually succumbed, these men inspired Sam Houston's volunteers to defeat the Mexicans a month later and helped Texas win her freedom to become a republic. Many German, Mexican, and Asian settlers began to immigrate to San Antonio, and its population swelled to 8,000 by 1860.
San Antonio showcases an interesting blend of its Spanish and German ancestry, and visitors will find a wide variety of architecture and musical styles. The River Walk extends for three miles, featuring many shops, cafes, bars, and gourmet restaurants and showcasing festivals year round including Cinco de Mayo and the festival of lights. Barges and river taxis travel up and down the river, and the city has a colorful, laid back tempo abounding with authentic Mexican food. Visitors will also find a festive Mexican bazaar, the 250-acre Sea World of Texas, and the 200-acre Six Flags Fiesta Texas.
San Antonio is home to one army base and four air force bases, as well as ten colleges and universities. The city has a substantial medical, biotech, business, and financial presence. Many of its neighborhood suburbs boast excellent schools and home values, but other suburbs and some inner city communities suffer from high crime and unemployment. The city is easily reached by car, bus, train, or air to San Antonio International Airport.
Downtown San Antonio Street Map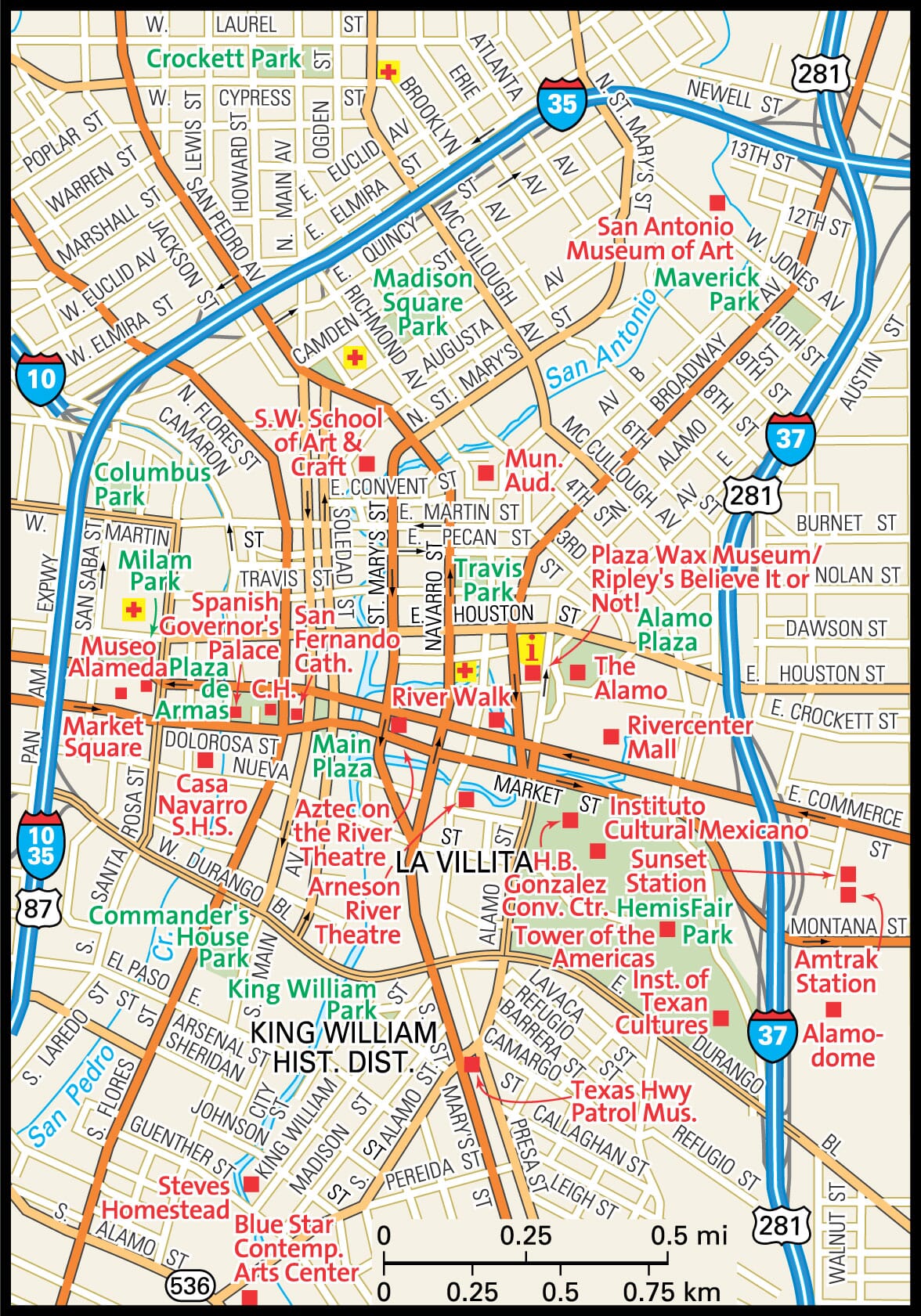 Select one of the above menu options
to display an interactive city map here.
The center of San Antonio, Texas is located at about 29.42 degrees North (latitude) and 98.49 degrees West (longitude). The city occupies approximately 407.6 square miles in land area; according to the 2010 census, San Antonio's population was 1,327,407.
San Antonio Information Directory
In-depth San Antonio information and news can be found on these regional San Antonio Libraries and San Antonio Newspapers pages, respectively. Visitors to San Antonio will find this San Antonio Travel and Tourism website useful.
---
Copyright © 2012- San-Antonio-Map.com.
All rights reserved.

Map of San Antonio, Texas